Legend Housewares joins the Winelands Train4Change
Posted on Wed April 3, 2019.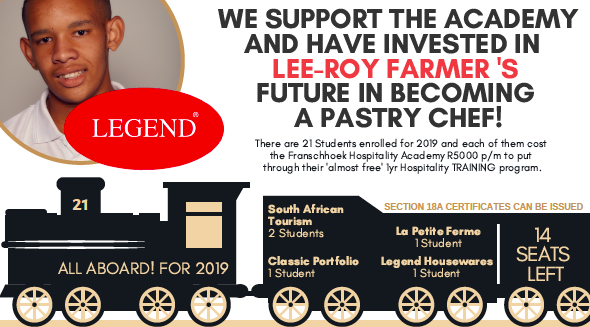 Legend Housewares, has not only sponsored an array of kitchen goods and equipment for the Franschhoek Hospitality Academy's cooking classes but they have also joined their Winelands Train4Change by coming onboard to sponsor a student's future.
The Franschhoek Hospitality Academy (Trust & PBO) has to raise R1.5 Million each year to cover the cost of placing 20+ Students, from our historically disadvantaged communities, in their one year Hospitality Training program.
The Winelands Train4Change is peaking interest in the Valley, gaining support from South African Tourism, Classic Portfolio, Black Elephant Vintners: First Miracle Trust, La Petite Ferme, Lynx Wine Estate and now Legend Housewares.
Each of these Establishments have generously endeavoured to fund R5000 per month/R60 000 per year, towards the cost of a Students future, in order to assist the Academy in their plight to educate our youth, up-skill them and increase their chances for future employment by the end of the program.
Legend Housewares have recently published their latest newsletter "The Kitchen Scoop", featuring their support towards the FHALC and see page 11 to find out more about the Student they have sponsored for 2019.
The Academy would like to thank everyone who has come onboard so far as their contributions are ensuring their success and continuation of the impactful work that they are doing in our communities.
If you would like to find out more about the Winelands Train4Change, download our advert Click here!