'La Soirée Classique' by Haute Cabrière
Posted on Thu September 8, 2022.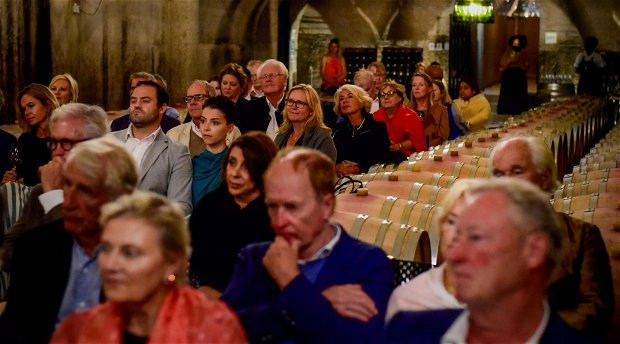 On the 28th November the Franschhoek Hospitality Academy held its second large fundraiser of 2021 at the beautiful Haute Cabriere Estate. La Soiree Classique entertained 55 guests to a wonderful evening of fine food and operatic music.
Guests were welcomed by the magical views overlooking the Franschhoek Valley with Pierre Jourdan bubbly, background harp music and delicious canapes by Matthew Gordon, owner of The French Connection. The evening continued with a three course paired dinner followed by a superb operatic performance in the Barrel Cellar by Lynelle Kenned (soprano), Garth Delport (bass-baritone) and Stephan Lombard (pianist). Music ranged from classic arias to soulful well known favourites such as Old Man River.
The grand finale was an exciting auction, conducted by the inimitable Doug Gurr, which raised a total of R235,000 for the Franschhoek Hospitality Academy. Auction items included:
• A private operatic soiree with Lynelle Kenned, Garth Delport and Stefan Lombard
• A private dining experience with Dave Schneider of Chefs Warehouse at Maison
• A private dining experience with Reuben Riffel
• A helicopter trip over the Cape Winelands sponsored by Mike Bosman and a three course meal at Haute Cabriere
• A luxury getaway at a Living Journey hotel
• Rare wine from La Motte
• A signed book by Achim von Arnim
The Academy, currently in its fourth year of operation, provides a one year broad based hospitality industry training programme to disadvantaged youth. Entrepreneurship training will be added to the curriculum from 2022. To date 100 people have directly benefitted from the training and most importantly, despite the pandemic, 90% are in full time employment!
In addition, each year two students are selected for a two year sponsored programme at the ITM College in Austria. To date eight students have been given this opportunity.
The Franschhoek Hospitality Academy wishes to thank Haute Cabriere and the von Arnim family, its sponsors and the guests who attended the event and made it such a success. It is as a result of evenings like this that the Academy continues to be able to operate.