A memorable day for Franschhoek Hospitality Academy Graduates
Posted on Thu September 8, 2022.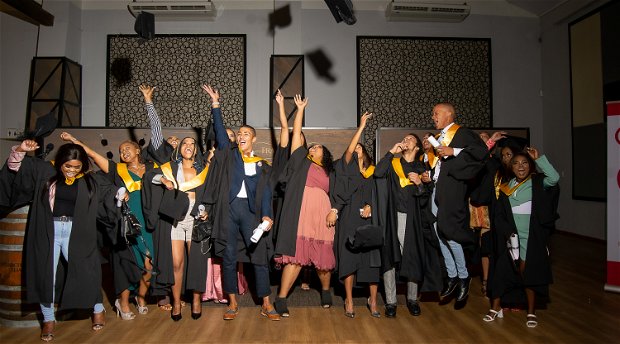 Despite a torrid year for the 2020 Academy students and staff, 24 out of 25 students graduated at a ceremony in April held at the Franschhoek Cellar.
The academic year was characterised by disrupted classes due to Covid considerations. The class also had to be split into two sessions per day, half the students attending in the morning and the balance in the afternoon. This provided onerous conditions for Jeremy Davids and his teaching staff who were required to repeat lessons and exercises on a daily basis.

The Academy's academic year normally comprises eight months of mainly classroom training followed by a four-month internship in a restaurant, hotel, wine farm etc. Due to the disruptive effects of Covid precautions, the internship programme also had to be extended.

Despite all this, a very proud and very happy group of graduates received their certificates at a moving ceremony attended by parents, ambassadors, friends of the Academy and sponsors, including Executives from Defy which has become a significant benefactor of the Academy. Other significant benefactors and friends of the Academy are JP and Marina Colmant who presented a cheque for R47,230.
Carol Davids, the mother of Caryn Davids who is one of our students currently studying at the ITM College in Austria, made a speech which emphasised the value of the training her daughter had received from the Academy.
Then it was the all-important presentation of the certificates to the graduates by Academy Head, Jeremy Davids followed by great celebrations commemorating a very special day in 24 young lives!
The Academy wishes to thank Franschhoek Cellar for the assistance given in the hosting of the ceremony.