ROCK IN WHITE - GREAT SUCCESS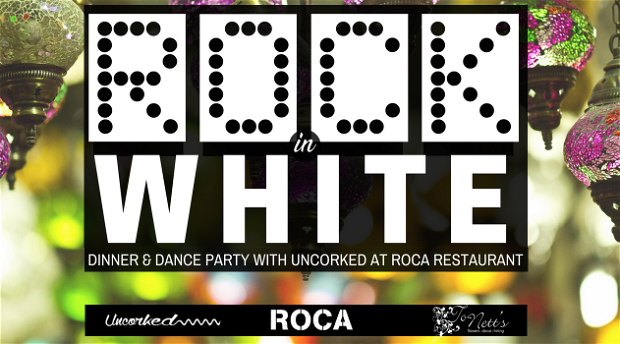 Friday 27th July - Dinner & Dance Party with the ever so talented Uncorked Band at Roca Restaurant on Dieu Donne Wine Farm, was a huge success!
R210 000 was raised on the night! THANK YOU!
All proceeds will go towards ensuring the Franschhoek Hospitality Academy can continue their efforts of changing the lives of the Youth in our disadvantaged communities in 2019 and for many years to come.
Thank you to Craig Sherrel, Janine and Chef Norman and the ROCA Restaurant Team, Auctioneer Doug Gurr and the Uncorked Band and To-Netts for your incredible support in making the event possible!!
Another huge thank you to all our Prize Sponsors: Our Ambassadors; Margot Janse, Reuben Riffel, Matthew Gordon, Chris Erasmus and JP Smith, Consol Glass (the homemade Relish Jars), Mantelli's, La Bourgogne, Haute Cabriere, La Brie Winery, DNA Events, Dieu Donne Vineyards, Anthonij Rupert Winery, Haut Espoir, Leopards Leap, Edouard Lugagne Photography, Le Franschhoek Hotel and Spa, Dalewood Fromage, Ashborne House, Reuben's Restaurant and Bar, The Corner House Guest House, La Cabriere Country House, Pearl Valley Golf Course, Franschhoek Beer Co Lunch, Bellingham Rare wines (Donated by Dunbar Crewe Brown), La Motte, Graham Beck, La Residence Hotel, Foliage, Beauty Direct, Boekenhoutskloof, Black Elephant Vinters, Bovine Restaurant, Crowne Plaza - Dubai, Intercontinental Fujairah - Dubai, Clifton Beach Bungalow, The One and Only Hotel Cape Town, Status Luxury Vehicles, Le Coin Français, Val de Vie, Jo Kilian (donated Strandveld 2005 "Adamastor"), The Good Food Company, Salon Belle, Alexia: Mindfulness Matters, Franschhoek Adventures and Beauty Direct.