Tracey's 3rd Annual Hoedown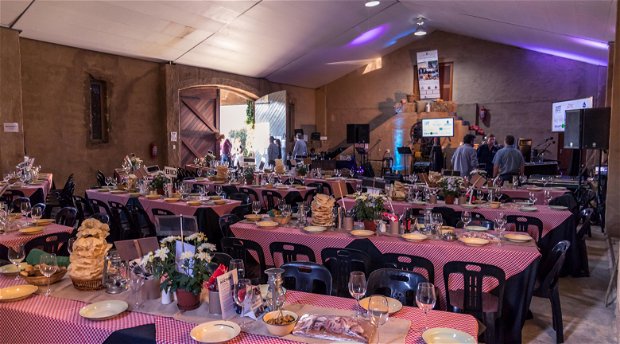 HERE'S THE LOWDOWN ON TRACEY'S HOEDOWN
On Saturday the 12th of October, Franschhoek friends gathered at Burgundy Bourgogne Farm for Tracey Kirsten's Annual Hoedown, in support of the Franschhoek Hospitality Academy.
The evening was a huge success, raising R185 000 to ensure that the Academy can continue in its efforts to train local youth, residing in our historically disadvantaged communities, in all hospitality related areas, that will assist them to gain employment at the end.
The evening started off with a kneeslappin' bang when Uncorked – The Band performed their best Country songs, followed by a delicious curry prepared by Ambassador, Chris Erasmus. Shirley and Barbara of Best Western Dance Academy demonstrated a few line dancing moves which entertained all our participating guests. Doug Gurr then stole the show, giving his highly anticipated performance during the successful auction!
The Auction comprised of artwork by Andrew Ntshabele, represented by the Travelling Art Gallery as well as a painting by Hilton Edwards called 'LANGA'. There were fabulous getaways and experiences sponsored by Jewells, The Spice Route, GlenWood Vineyards,
St. James Seaforth Manor Guest House, The Marine in Hermanus, a 4-Ball at Pearl Valley and a weekend at a private Clifton Bungalow. Our local Chefs Scott Armstrong and Kevin Grobler donated a private dinner "in your own home" and Darren Badenhorst donated a lunch at his new restaurant, Le Chêne, which is opening soon at Leeu Estate. The Auction item that raised the most was a 3-night Safari at the Kalahari Plains Camp in Botswana made possible by Wilderness Safari's and Franschhoek Life.
The Academy's students, from their Class of 2019, assisted the team throughout the night, led by their Academy head Jeremy David's and showcasing the many skills they have acquired during the year. They have all completed their in-classroom training and are currently undergoing their compulsory 4-month Internships before graduating in February 2020.
The Academy would like to thank Tracey Kirsten, Linda Hightower, the Uncorked Band, Doug Gurr, Chris Erasmus and all the Guests as well as all the Wine, Beer, Food and all Prize sponsors for all their support in making this such a fun and successful event.
If you would like to find out more or support the Academy for their Class of 2020 by making a much-needed donation towards their 1.4 million Target, please visit www.fhalc.co.za or email tarryn@fhalc.co.za.
CREDIT Photographer: Bryce Barnard of Prismatic Innovations