A Magical "Night at the Opera"
Posted on Thu September 8, 2022.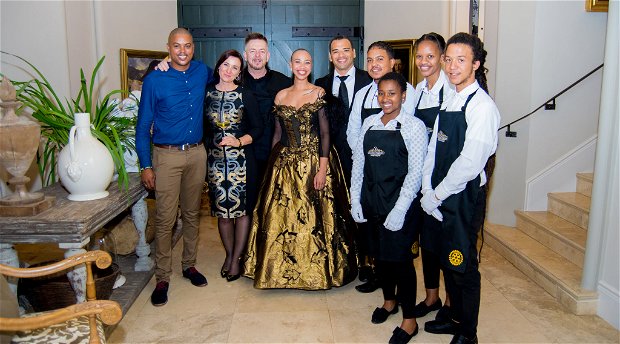 Sandstone House, Clive and Joanna Venning's majestic home was the venue for the Franschhoek Hospitality Academy's elegant fundraising soiree "A Night at the Opera".
On arrival at sunset on the lawns, guests sipped bubbly kindly donated by JP and Marina Colmant with background music provided by violinist Galina J. The team of acclaimed Franschhoek Chef de Cuisine Darren Badenhorst treated the guests to an assortment of delicious canapes and sushi.
Guests adjourned to the conservatory and were treated to stunning operatic performances by Lynelle Kenned (soprano), Garth Delport (baritone) and pianist and conductor, Stefan Lombard. The music ranged from classic opera to songs from "Showboat "including "Old Man River" and also favourites from "Phantom of the Opera". Guests reluctantly released the artists after two encores!
The auction, expertly and humorously conducted by Doug Gurr yielded R435, 000 which made this event the most successful the Franschhoek Hospitality Academy has ever organised.
Besides providing his home as the venue for the soiree, Clive Venning offered, as an auction prize, the opportunity for a group of people to drive five of his classic cars, including access to the private racetrack at L'Ormarins, thanks to Wayne Harley of the Franschhoek Motor Museum, and a paired lunch at Antonij Rupert Wine Estate's Terra del Capo restaurant. A further auction item was a four-night stay at Clive and Joanna's Pringle Bay beach house.
Chris and Andrea Mullineux exceeded all expectations by donating a barrel (equivalent to about 300 bottles) of their superb Schist Syrah wine. Award winning Chef de Cuisine Darren Badenhorst donated a private dinner for ten people at either his restaurant Le Coin Francais, or in a private home. Franschhoeker Dee Cunningham, who has 25 years of success in the interior design world, donated her consulting time to two lucky bidders. Finally, Chef Jan Hendrik van der Westhuizen whose Nice based restaurant Jan, was awarded a Michelin Star, donated a meal at his Innovation Studio restaurant in Cape Town.
The Hospitality Academy team, Michaela, Brian, Jeremy and Shaneill were overwhelmed by the generosity displayed and wish to extend a huge thank you to everyone involved and who attended the soiree. Also, a special thank you to Clive and Joanna Venning for the use of Sandstone House and for the unwavering support the team received throughout the planning and execution of the event.
The Franschhoek Hospitality Academy and Learning Centre is a nonprofit organisation which provides broad based hospitality training to disadvantaged youth in the area. www.fhalc.co.za