Margot Janse - Ambassador - Biography
Posted on Wed November 15, 2017.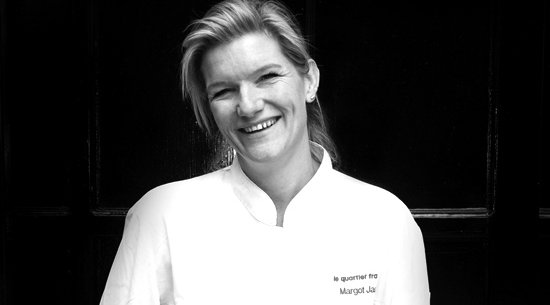 Margot, is one of our incredible Ambassadors, who has taken it upon herself to be a mentor to our students over the upcoming years and has been actively involved in its development. Here is her story on how she got to where she is today.

We are more than honored to have Margot Janse on our board of Ambassadors. After 21 years at the forefront of the South African and international culinary scene Margot put Franschchoek on the map with her magic at Le Quartier Francaise - The Tasting room. Her cuisine is African inspired and was named 36th top restaurant world wide. 
Vivid, conceptual, and interwoven with stories, Margot's food explores Southern Africa on a plate.
"The guests that come to dine are not just there for dinner," explains Margot. "The whole experience is about celebrating our country and region. Our service style is based on storytelling, instead of factual information sharing. We tell you about the winemakers and his dog, the things granny did with buchu and why the baobab is called the upside down tree. When, at the end of the evening I get thanked for a special experience and for all our guests learned about this amazing country, its culture and indigenous produce – that's when I know we got it right."
Ingredients are indigenous, from buchu and waterblommetjies to kapokbos and sour figs. They're also lovingly and painstakingly sourced from sustainable suppliers.
Instead of a long list of options, diners have just one choice to make: whether to have the five-course or the eight-course surprise menu. You might find yourself eating a rock, a cigar, or a bowl of cheese. Margot's food, in a word, is fun.