a Culinary Night of SYNesthesia Fundraiser
Posted on Tue October 17, 2017.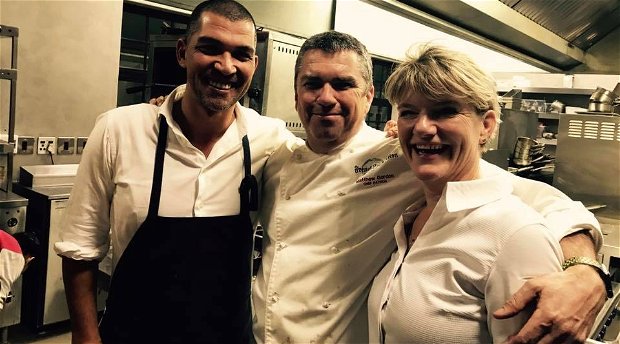 From igniting your tastebuds, hearing the smells and tasting the sounds, The Franschhoek Hospitality Academy & Learning Centre's fundraiser, a Culinary Night of Synesthesia, held at Reuben's Restaurant & Bar, delivered an exceptional evening for all to enjoy!
FROM FRANSCHHOEK, FOR FRANSCHHOEK. CHANGE4TWENTY IGNITED WITH R310 000 RAISED AT SYNESTHESIA FUNDRAISER
The Franschhoek Hospitality Academy & Learning Centre is excited to announce that their fundraiser, a Culinary Night of Synesthesia, held at Reuben's Restaurant & Bar, was a huge success. Guests arrived and mingled with esteemed Executive Mayor Gesie van Deventer, Councillor Minnie Peterson and Counsillor Florence as well as many of their Partners, Sponsors and Friends.
On arrival, guests taste buds were ignited with the flavours of delicious canapes and oysters before taking their seats to embark on a sensory culinary journey, allowing them to taste sounds, smell colours and see the scents of a remarkable 4-course dining experience that was prepared by their very own Ambassadors and Chefs, Reuben Riffel, Margot Janse and Matthew Gordon. The successful and selected students from our local communities, attended the event and were introduced to the guests before they had to rush off to start prepping for their final matric exams. Killowat AV, using their high end technical equipment, delivered an exceptional show with visuals, lighting and sounds, taking your senses to a farm among fields of flowers, in a forest alongside a stream, in the middle of a blazing fire, to gazing at the northern lights! It was something different for everyone and a sensational atmosphere in the room, not to mentioned the food was delicious and accompanied by exquisite wines from our local farms!
Amy Kleinhans, rocked the room as the host and MC for the evening delivering a touching story that inspired everyone, before Doug Gurr, the talented auctioneer for the evening, opened the hearts of the guests even more, raising a remarkable amount of R310 000 for the Academy's Change4Twenty Program! The Auction was comprised of exciting packages and experiences that were donated by our local retailers, vinerons, guest houses and suppliers, restaurants and ambassadors as well as from Cape Town and surrounding towns.
"This evening was more than we could have possibly imagined and we were blown away by Franschhoeks' humility and generosity towards making the dreams of our students come true. We would like to thank our Ambassadors, Sponsors, Partners, Guests and everyone else who made this event possible and such a success. We could not have achieved this without you! We have managed to raise the funds to cover almost 1 year of operations and anything we do going forward, will now be able to go towards sustaining the Academy and making sure we can continue in our efforts to change the lives of so many more youth in Franschhoeks surrounding communities" stated Co-Founder, Tarryn Corlett.
The Franschhoek Hospitality Academy & Learning Centre has selected their 20 students to pilot the Hospitality training program (with courses sponsored by Lobster Ink) and is set to open their doors in January 2018. For more information or if you would like or get involved, visit www.franschhoekhospitalityacademy.co.za. Big ups to our Franschhoek locals for getting involved in another valuable charitable project for our community.
Seen here: Our Class for 2018, attending the Fundraiser held on 17th October 2017.