21 Bicycles for Change4Twenty1
Posted on Fri February 8, 2019.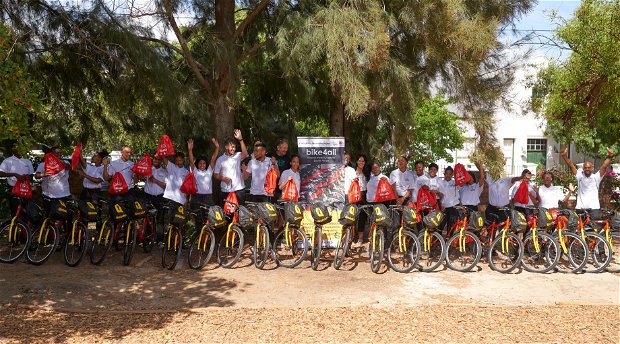 On Thursday 31st January, The Franschhoek Hospitality Academy Students were given an amazing gift that will change their lives in so many ways.
After striking it lucky by winning a competition on Cape Talk radio just before his birthday, Gordon Laing, one of Pedal Power Associations (PPA) Exco members, decided to use his prize to Pay it Forward. Gordon had the great idea of getting his friends to donate to Bike4All instead of buying him presents. Thanks to their generous responses, he raised enough money to donate 10 Bike4All bicycles … but that's not where it ended…
Inspired by this generosity, a few corporates joined in and the Pedal Power Association (PPA) also matched these donations.
Towards the end of 2018, Claus Peter Jakobsen, Owner / CEO of CPJ Investments / Scandinavian Brand House heard about the Pay it Forward Campaign on Cape Talk Radio and contacted Bike4All immediately, as he thought that it is a great initiative and wanted to donate 10 bicycles to deserving recipients in the Western Cape. These 10 recipients were lucky enough to be 10 of the students from the Franschhoek Hospitality Academy's Class of 2019. Upon hearing that there were 21 students in the class, the Bike4All joint initiative together with PPA and BEN decided to match the contribution from Claus and sponsored a further 11 bicycles to their students! But that's is not where the generosity ended.
All the Students also received a safety briefing, helmets, safety vests, locks and chains to ensure their safety at all times. Some of the students even received cycling lessons on the day! The Franschhoek Hospitality Academy would like to thank Gordon, Claus, Jannis, Bike4All, Pedal Power Association, BEN and Cape Talk for this phenomenal gift to their students.
This new partnership is an exciting and new one for the winelands. Representing Mayor Gesie van Deventer and the Stellenbosch Municipality, Speaker Ms Minnie Peterson, Ward Counsellor Aldridge Frazenburg, Portfolio Chair of Sports Manie Pietersen and Mayco Member Salie Peters, attended to show their support for this initiative and addressed the guests. Ambassadors, Reuben Riffel, Matthew Gordon and Chris Erasmus also attended in support.
"Transport has always been an issue for our Academy and our students. Now our students are able to get to class (on time without excuses) and cycle their way to a very successful future that lies ahead. Thank you for making this possible," stated Tarryn, Co-Founder of the Academy.